PerfTestPlus
What We Do
PerfTestPlus offers advising, consulting and training services as well as resources to bring software testing expertise and thought-leadership to organizations seeking to push their testing beyond "state-of-the-practice" to "state-of-the-art." Our testing services are designed and delivered by name-brand consultants who subscribe to our integrity driven, value focused philosophy.
In addition to testing services, PerfTestPlus offers a variety of general software support services. Each of these services are based on the individual expertise and interests of our staff. Generally speaking, our software support services are shorter in duration than our testing services and can often be designed as fixed price contracts, making them easy to budget for.
With PerfTestPlus there is no "bait and switch," no account manager trying to make a commission, and no presumption that we will accept every project that comes our way. As a result, PerfTestPlus only accepts projects when we believe we can provide the service you need at the high degree of quality you deserve.
Services Focus Areas
Industry Leadership:
When PerfTestPlus consultants aren't busy delivering services to clients, we can often be found writing, speaking or collaborating with our friends and alliances to sharpen our skills and make our experiential lessons publicly available. Unlike many other services organizations, PerfTestPlus doesn't hide behind a wall of "trade secrecy", we publish. PerfTestPlus doesn't posture itself as being better than other experts, we collaborate with them. This combination of publication and collaboration enables us to continue improving the state-of-the-art and the state-of-the-practice of software testing rather than continually promoting last year's "best practices."
---
Now Available
Web Load Testing for Dummies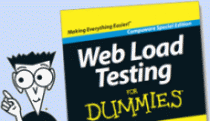 Lead Author: Scott Barber
---
Performance Testing Guidance for Web Applications

Lead Contributing Author: Scott Barber