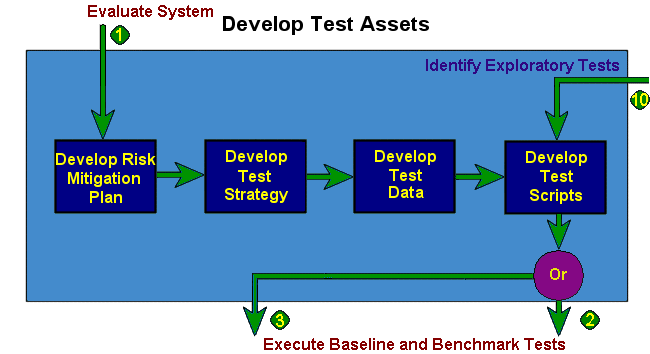 Aspect: Develop Test Assets
The Develop Test Assets aspect of the performance testing lifecycle is where three of the four primary project deliverables are created. The intent of this aspect is to completely prepare for test execution and analysis. These activities are initially conducted at the completion of the Evaluate System aspect. Each time the Identify Exploratory Tests aspect is completed these activities are revisited to ensure they either remain accurate or are updated to reflect the need for exploratory testing. The Develop Risk Mitigation Plan activity is reviewed continually throughout the project to ensure initially identified risks are being properly managed as well as to document any risks that present themselves during the remainder of the project.
Click on an activity to learn more about that activity or click here to return to the Approach page to review another aspect.
---